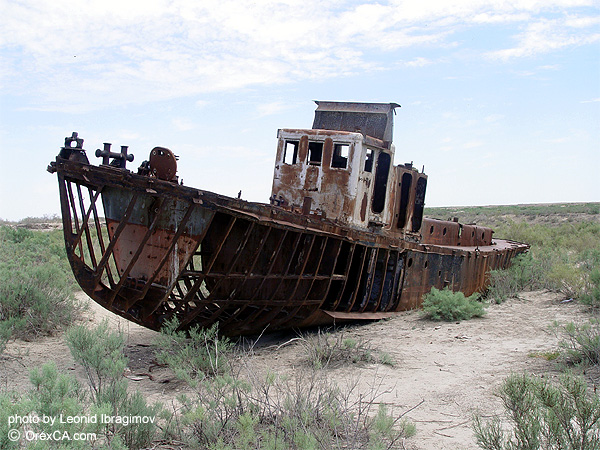 ARALSK, KAZAKHSTAN
Incredibly, they have Internet here--about the only thing they do have. The guy in the Internet cafe couldn't believe I was American; prob. he'd never seen one before. The guy who sold me my train ticket said it's the first one he'd ever issued. Suffice it to say this is not a hot spot. Rather, it's one of those places you go to for everything it lacks: most importantly, what used to be the world's largest lake(?), depending on how you count lakes, seas, continental rifts, area vs. volume, salt vs. fresh, etc. Now, thanks to Kruschev's ingenious scheme to make Kazakhstan a cotton superpower by diverting the Amu-Darya and Su-Darya, two gigantic rivers that drain the Pamirs (cousins of the Himalayas), it's one of the world's largest salt flats--laced with all sorts of toxic chemicals distilled out of the water and the secret Soviet weapons lab, and fertilizer for all that cotton.
So what's it like? I haven't been to where the photo was taken yet, so I'll describe the town itself: broken beer bottles pave the streets, camels roam like stray dogs, once-decorative wooden houses threaten collapse and newer ones are cobbled together from scrap metal, ill-clad children wander seemingly unsupervised. The air quality is a lot better than I expected, but then, there's been no wind yet. I'm finessing dinner because I can't really find anywhere to eat. (That's partly because a wedding has taken over the largest, perhaps only, restaurant.)
Keep your fingers crossed that I get out of here tomorrow. Since you're not allowed to buy a train ticket out of Aralsk in advance for some reason, and demand is way high, I've bought two separate tickets: one to get here, from Tashkent, that I just used; a second, from Almaty (Kaz) to Moscow that I intend to use a portion of (Aralsk to Moscow). I've had to contract someone in Almaty to pay the conductor there not to give away my berth between Almaty and here. Oh, the wonders of the post-Soviet world! I haven't heard that the scheme failed, so I'm cautiously optimistic. Aralsk is an interesting place to visit, but I'd hate to get stuck here.